Servicenow ITSM - Get to Value Fast, Simplify the IT Experience, and Make Smarter Decisions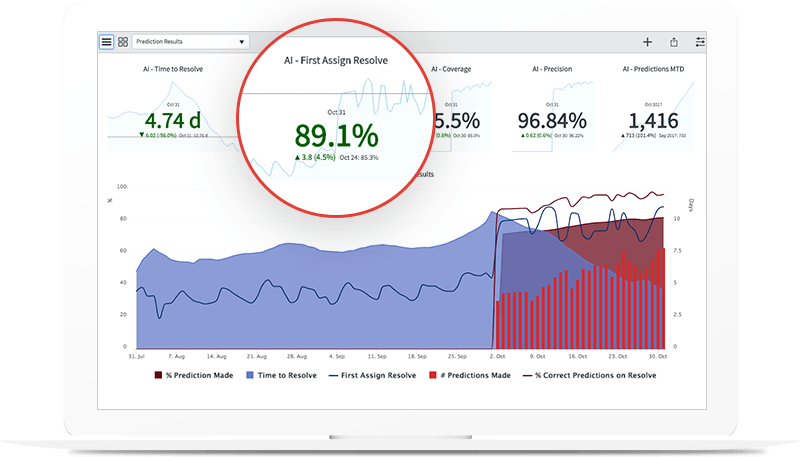 IT is leading the charge toward digital transformation, but complex legacy tools act as barriers along the way. With ServiceNow, your new service desk is up and running fast with built‑in proven practices. An easy‑to‑use service portal makes submitting requests and delivering services painless. You'll work smarter with Agent Intelligence to automatically categorize and assign tasks, and gain control with complete IT service visibility – no infrastructure required.
Transform the Speed, Visibility, and Agility of IT
Achieve end to end transformation for your IT services and infrastructure through a single cloud based platform. ServiceNow® IT Service Management (ITSM) lets you consolidate fragmented tools and legacy systems while automating service management processes. It's simple to configure and fast to deploy, so you can go live quickly with confidence, while scaling to your business needs.
With IT Service Management, You Can…
Make Smarter Decisions: Automate routine processes with Agent Intelligence™, and tap into peer benchmarks for continual service improvement.
Get Fast Results:Rapidly consolidate your IT services with a single system of action in the ServiceNow Nonstop Cloud, using proven, ITIL-based practices..
Remove Chaos and Gain Control: Gain control of your IT services fast with easy-to-deploy management solutions that grow with your business..
Use Real-Time Analytics for Full Visibility: Built-in dashboards and Performance Analytics provide consistent and actionable information for service demand, service level compliance, and other key indicators.
Align IT Services with the Business: Deliver a superior user experience and increase productivity with a consumer-like, mobile-ready service portal that simplifies requests and automates delivery..
to gain control
to modernize your IT services
to align your IT services with your business
---
---